Knowing Creation Nature Study Curriculum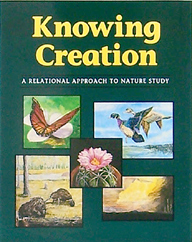 In contrast to the human-centered views of science and education so prevalent in our culture today, the Biblical view recognizes man as a created being who must willingly submit himself to the order established by his Creator. This order includes the natural world which God created to express His very nature (Rom. 1:18- 20). Our loving God reveals His divine nature and power through what He has created. In Him, all things hold together in perfect consistency. The universe reveals, through the perfect integration of its ordered relationships, Godís love.
You inhabit a unique place within His creation, within the habitat made by God. The Knowing Creation Nature Study Curriculum will help you see the harmony God has given around you and how you fit into it. You will see natural relationships with new clarity and observe how the natural harmony and cycles of creation work together for the benefit of man and the glory of God.
Knowing Creation utilizes several easy-to-use nature study charts that work together with recommended guidebooks and field guides. The Knowing Creation Day Charts help parents and children learn about the world around them by providing a form to record observations about the sky, the weather, plants, animals and manís effect on the environment. General Charts are used to study about terrain, vegetation, soil, climate, waterways and so on found in your local geographic area. A Knowing Creation Calendar is used as a nature study diary. The detailed Scope and Sequence charts, organized by nature study topics (that is, domestic animals, weather, wild animals, sky, garden and crops, wild plants and the earthís surface) provide you with a general planning and record-keeping guide that will help you teach your children in an orderly fashion. The curriculum also gives several pointers on specific pitfalls to be aware of when using secular guidebooks and field guides, information on how to conduct family nature study workshops, how to integrate nature study with other subjects and other helpful information.
The Knowing Creation Nature Study Curriculum includes: 25 Day Charts and 10 General Charts for Level I; 25 Day Charts and 10 General Charts for Levels II and III; 15 Monthly Calendar Forms and a spiral bound Nature Journal for field notes and sketches. Extra charts and Nature Journals may be purchased separately.
---
Be the first to review this product!